Skin products
Often we can't see the wood for the trees. We are confronted with a lot of information about skin products every day, but we usually find it difficult to choose the right products that actually do something for the skin. For example, we are often disappointed and skin products do not do what they promise. It may also be that we use the wrong skin products for the skin problem or use skin products in the wrong way. At Inskin institute we can make an in-depth skin analysis of your skin by means of a free skin scan, so that we can actually see which specific needs your skin needs. This, combined with our experience and knowledge about product ingredients and the skin, allows us to give you the best tailored advice about your optimal skin care routine that helps to get your skin in top condition!
make an appointment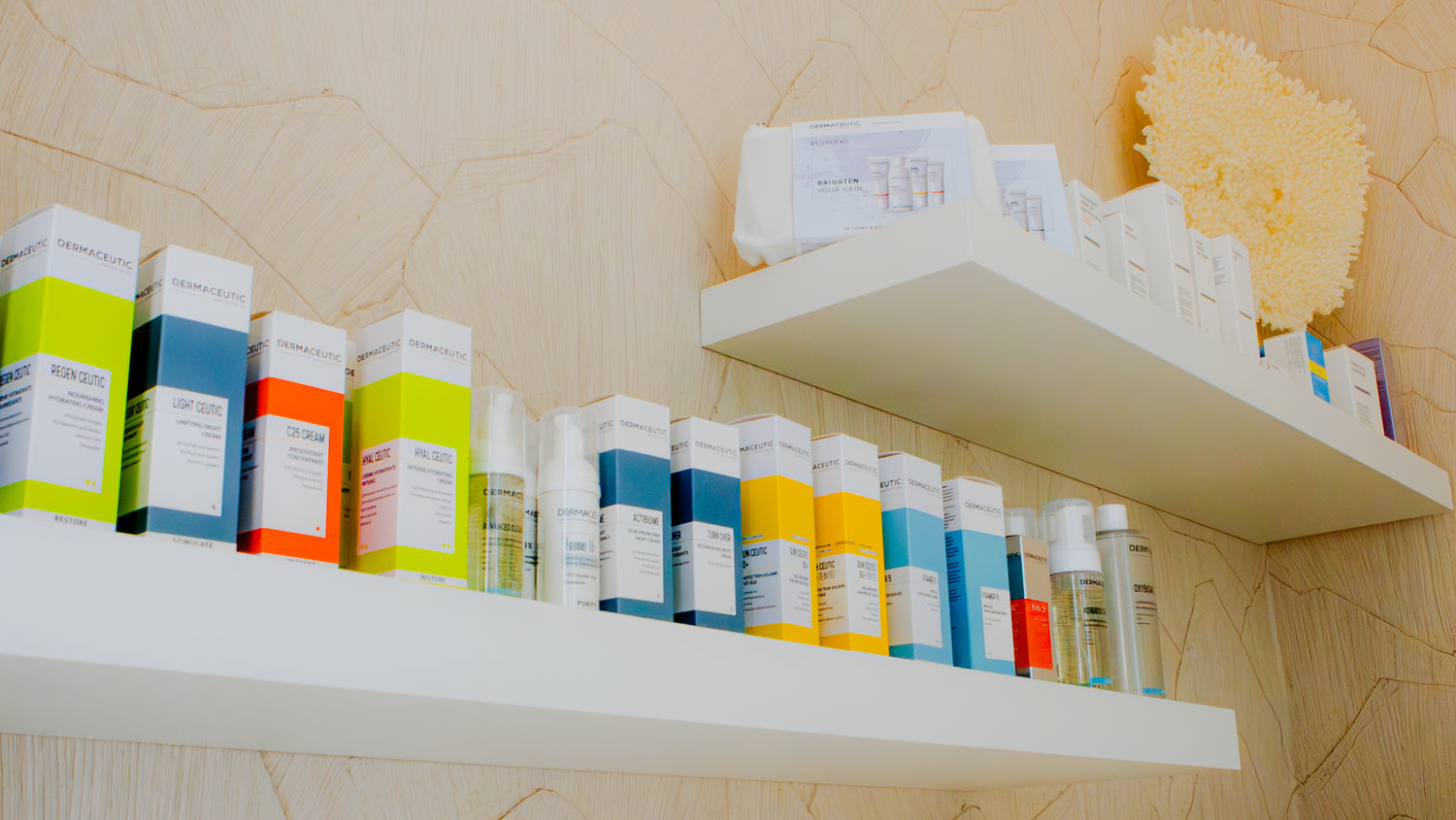 Cosmetics
At Inskin Institute we work exclusively with 'cosmeceuticals'. These are high-quality and effective skin products that have properties that go beyond just caring for the skin. Cosmeceuticals contain active ingredients that have been scientifically researched and proven to be effective. These products may only be recommended by doctors and skin therapists.
At Inskin Institute we work with the cosmeceuticals of the brand Dermaceutic and Rhenophase, because these skin products have proven to us to be very effective. These products actually do what they promise. As a clinic, we have taken a critical look at ingredients and composition of the products that are suitable for every skin wish, condition or skin condition. These products are free of parabens such as perfume, alcohol or preservatives. These are ingredients that are only more irritating to the skin. In addition, Dermaceutic and Rhenophase products are vegan and not tested on animals.
We can make a skin analysis by means of a skin scan with the Observ520X, which makes it clear which specific products are most effective for your skin at the moment. The right combination is very personal and we give you extensive advice about the ingredients. We give your skin the best care it deserves!
make an appointment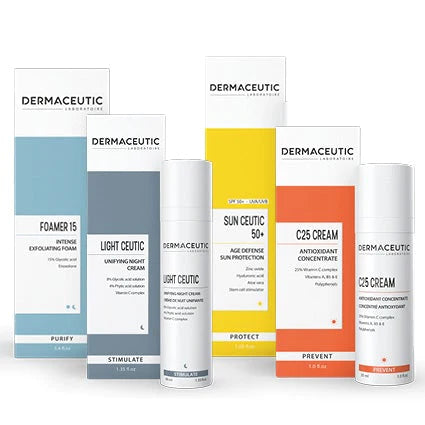 Dermaceutic Laboratory
Is one of the best known brands in the field of medical skin care. Dermaceutic's products are premium cosmeceuticals designed to improve skin health and radiance. These products combine the latest scientific insights with the highest quality active ingredients to improve the skin and protect it against aging and other harmful influences. The products have been developed in collaboration with leading dermatologists, doctors and skin therapists.
Dermaceutic's products are suitable for all skin types and offer effective solutions for specific skin problems, such as wrinkles, pigment spots, acne and rosacea. The products are designed to improve the skin in both the short and long term, so that you see immediate results and get healthier and more radiant skin in the long term. The products contain active ingredients, such as high percentages of hyaluronic acid, salicylic acid, glycolic acid, vitamin C and retinol, which have been proven to be effective in improving the skin. This way you always have a personal skin care plan for every part of the day and season that exactly meets the needs of your skin.
View all products
Rhenophase
Rhenophase is a renowned brand of cosmeceuticals and offers a product line that is very suitable for sensitive skin and young skin. It is often not possible to find the right skin products for sensitive skin that work against aging or improve the condition. In general, products for sensitive skin often contain mild ingredients that do not irritate the skin, but do not improve the skin condition and do not really work against skin aging.

We know that cosmeceuticals contain active ingredients that have been scientifically researched and proven to be effective for anti-aging and other skin concerns. However, most cosmeceuticals contain a high percentage of active ingredients that are too aggressive for sensitive skin.
Rhenophase uses alternative scientifically proven active ingredients that are suitable for sensitive skin. In addition, they use a special technology in which the ingredients are encapsulated in skin products. Encapsulated ingredients are active substances enclosed in small spheres. In this way, the active ingredient is released into the skin in a very gradual and controlled manner, so that the skin is not irritated.
make an appointment
Dit zeggen klanten over ons
Home products
The treatment plan is always twofold. In addition to the treatments we perform, it is also necessary that you get started at home with the products we recommend (at least 2 weeks prior to a treatment). We work with Dermaceutic and/or Rhenophase products. These products contain active ingredients that have an exfoliating effect and reduce the cornification of the skin, making the skin more permeable and allowing the active ingredients to do their job optimally. The skin will also recover faster after the treatment and you can keep the result of the treatment for longer.