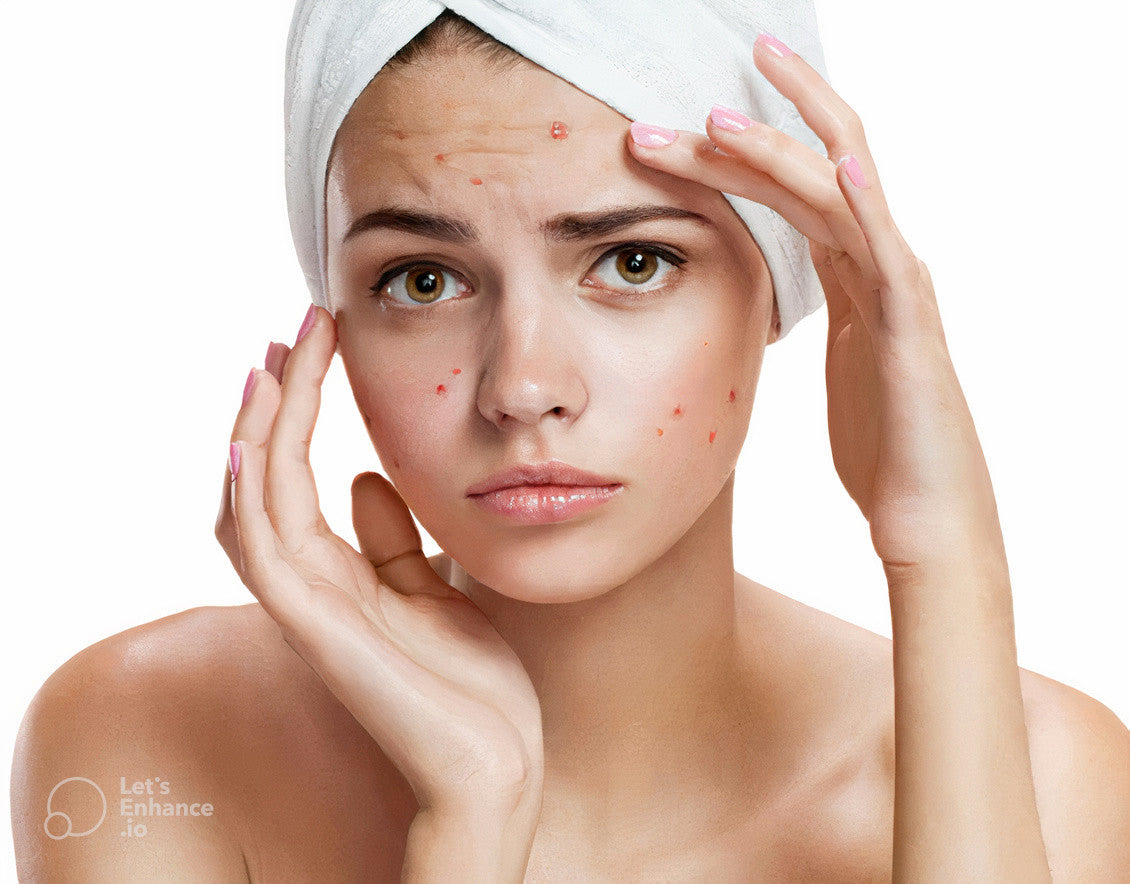 Acne
Almost everyone suffers from pimples from time to time. Acne is one of the most common skin complaints and can have a major impact on your life. Hormones can be a trigger for acne during puberty, but you can also suffer from acne later in life.
With acne there are pimples, blackheads, redness and sometimes oily skin and large pores. Often you have already tried everything to reduce pimples, but without sufficient results. The skin therapists at Inskin Institute are specialists in skin improvement and have extensive experience in treating acne. We look at where the triggers of acne come from for you. Based on our medical knowledge and experience, we choose the optimal treatment together with you to achieve the best result. Beautiful skin gives confidence. Do you want to regain control over your skin?
make an appointment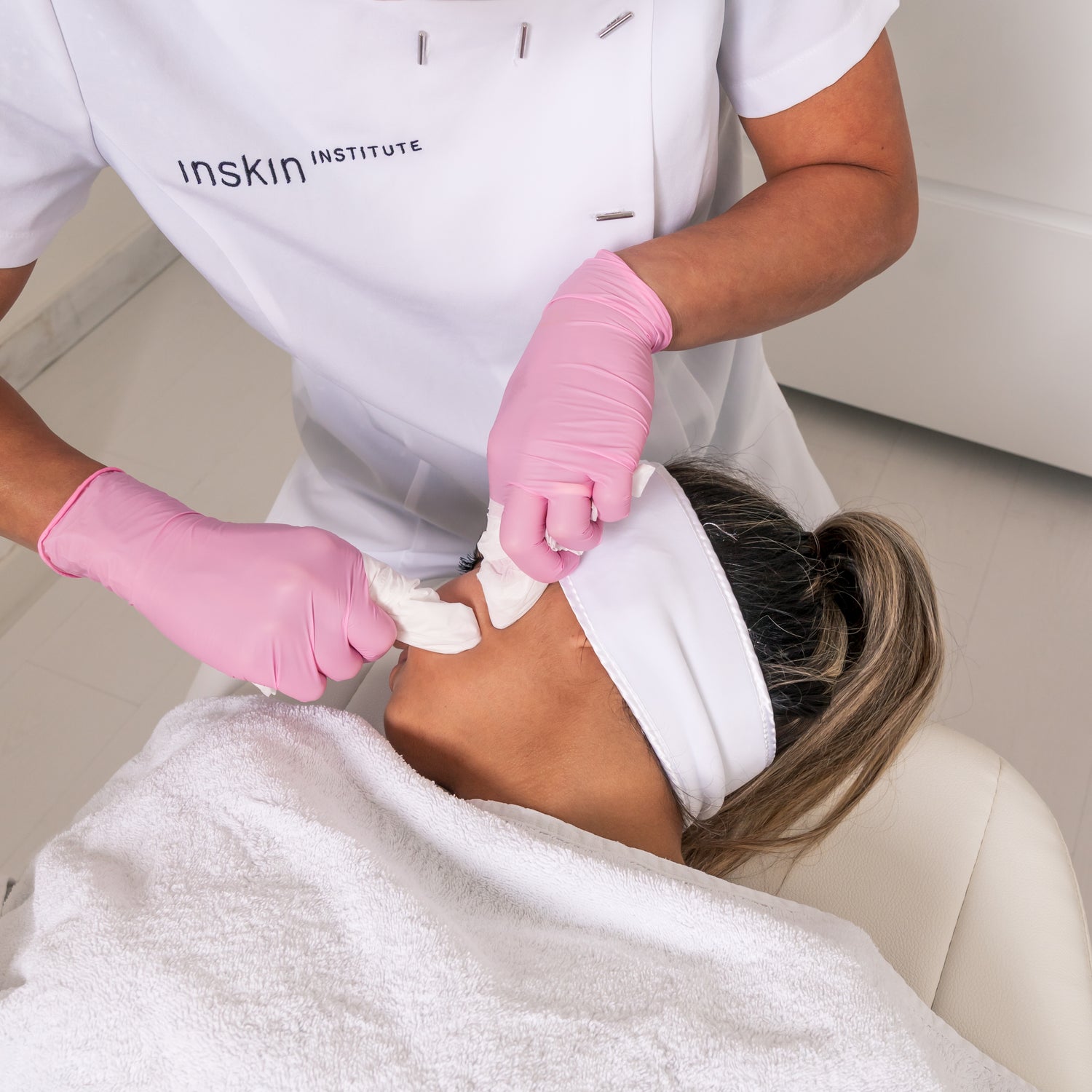 Therapy
Our skin therapists treat all forms of acne and acne scars. Depending on your situation, the goal is to control the inflammation in the skin and to reduce the resulting skin damage such as redness, large pores and scars. We focus not only on the symptoms of acne, but also on preventing new inflammations.
We will provide you with a personal treatment plan, product advice and nutritional advice. To achieve the optimal result, it is important that you comply with these recommendations.
Our skin therapeutic treatments consist of a deep cleansing, cleansing of the impurities in combination with a medical peeling, IPL treatment or Hydrafacial treatment.
make an appointment
Medical peels

At Inskin Institute we work with medical peels based on Glycolic acid, Salicylic acid, Lactic acid, Mandelic acid or Trichloroacetic acid (TCA). These active ingredients provide deep cleansing of the pores, inhibit sebum production and fight the propionibacterium acnes bacteria.

There is a suitable peeling for every type of skin. The peeling's active ingredients stimulate cell renewal, reducing impurities and inflammation. Exfoliating ingredients reduce acne scars and enlarged pores. Depending on the goal you want to achieve, we determine which peeling best suits your skin condition.

IPL treatment

With our IPL treatment (Intense Pulsed Light) we tackle the cause of acne. The energy released during the treatment shrinks the inflamed sebaceous glands, which will reduce excessive sebum production. Intense Pulsed Light destroys the p.acnes bacteria, which cause the inflammation. An IPL treatment is a safe and effective way to tackle active acne and reduce redness. This treatment is suitable for acne on the face as well as for acne on the back or chest.

At Inskin Instiute we work with the Inmode and it is CE and FDA certified.

Hydrafacial

Hydrafacial is a technique in which we treat the skin in three steps. With this treatment, the skin is powerfully cleansed, exfoliated and saturated with anti-inflammatory antioxidants. This reduces oxidative stress in the skin and has an inhibiting effect on sebum production. The redness of the skin will also decrease. The LED therapy reduces sebum production and kills the p.acnes bacteria that cause the acne.

Combination treatment

During the treatment process, we combine or alternate different techniques with each other to achieve an optimal result. The effect and results of all our treatment methods have been scientifically proven.
Home products
We work with the cosmeceuticals from Dermaceutic and/or Rhenophase. Cosmeceuticals contain active ingredients that have been scientifically researched and proven to be effective. These products may only be recommended by doctors and skin therapists. An important part of the treatment plan is the use of effective products for at home. These products contain active ingredients that counteract impurities, clear away dead skin cells and make the skin more permeable so that the active ingredients can do their job optimally. The products have an anti-inflammatory effect, sebum-regulating and reduce redness. We believe that in combination with our treatments you will achieve the best result.
View all products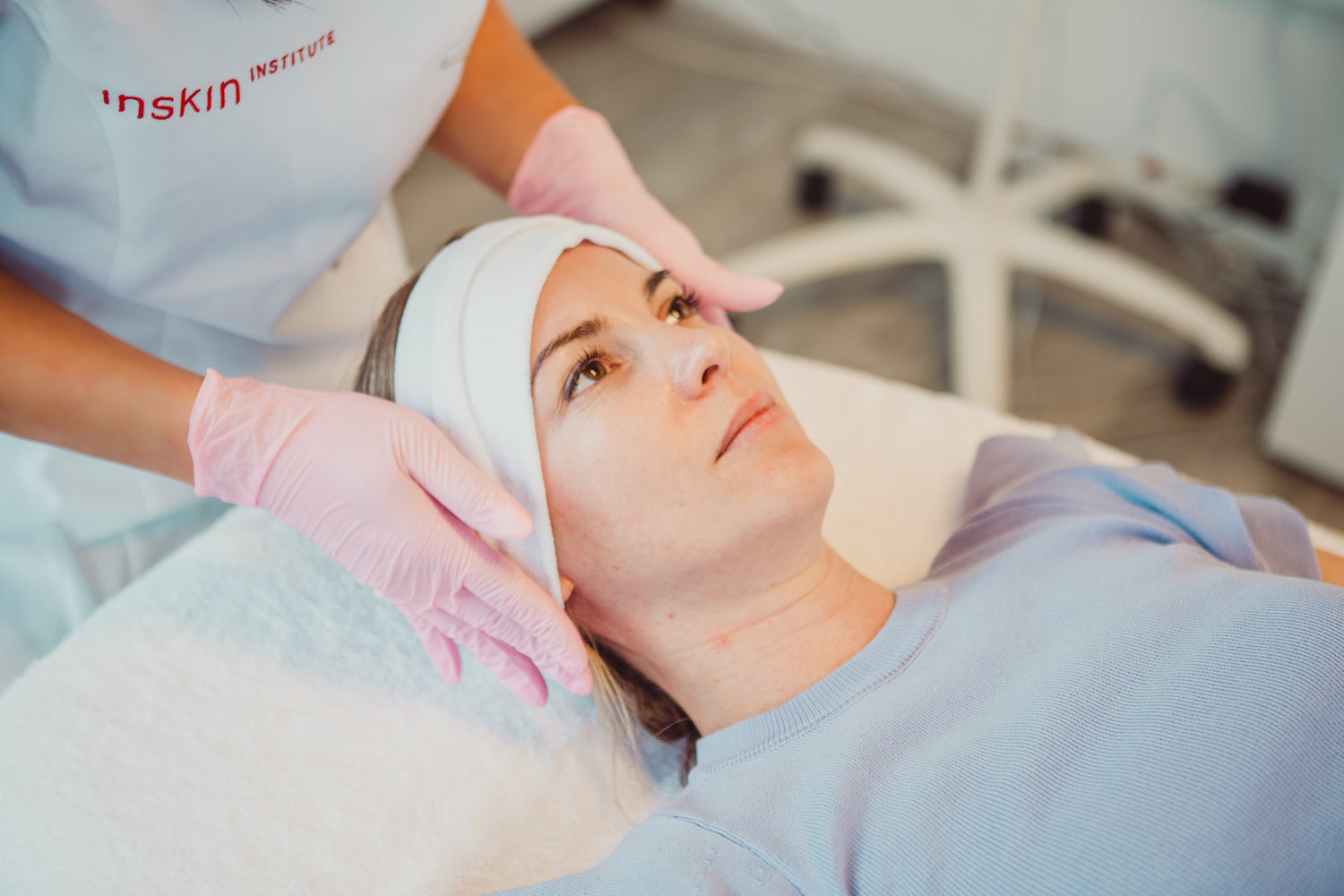 What effect can you expect?
You will notice that thanks to the treatments, the use of the right skin products and the application of nutritional advice, the acne will decrease. Multiple treatments are needed to stabilize and improve the acne. A treatment lasts an average of 45-60 minutes. After each treatment, we evaluate the progress and adjust the treatment plan if necessary based on your wishes. We will always focus on stabilizing the acne first before moving on to treating red spots and scars.
make an appointment
Dit zeggen klanten over ons
Important to know
It is possible that the acne gets worse after treatment before it improves. That's a normal reaction. After the treatment, the skin may look redder than usual. The skin may flake or peel slightly. You can also temporarily suffer from white heads, this is a regularly occurring detoxification reaction of the skin that passes by itself. It is important not to scratch the skin, pimples or inflammation or to scrub the skin!
Initially, we will schedule the treatments every three weeks. When the acne stabilizes, we can extend the period between treatments. If you wish, we can also advise you on the right post-treatment creams and special acne foundation that ensure that the acne recovers faster and is less visible.
Health insurance reimbursement
Acne therapy is sometimes reimbursed from the additional health insurance. The amount of your reimbursement depends on your insurance. Reimbursement from the additional healthcare insurance does not cover your deductible. Inskin Institute is recognized by all health insurance companies.
Questions about Acne Therapy
Is acne therapy reimbursed?

Yes, this is seen as a medical indication and these are often reimbursed from the additional health insurance. Inskin Institute is recognized by all health insurance companies
What will my skin look like after a treatment?

After an acne treatment, the skin may be red. If desired, we can apply medical camouflage so that you can continue with your daily activities.
Do I need a referral from my GP?

No, skin therapy is directly accessible care and a referral is not necessary. We are affiliated with all health insurers.
Is acne treatment painful?

We will be honest: the treatments are not pleasant, but in general the treatments are not experienced as very painful. We can always look at an alternative together.
How long does an acne treatment take?

A treatment takes on average between 45 and 60 minutes.
Why do I choose Inskin Institute?

At Inskin Institute, we give you
personalized and expert skin advice. You will be treated by BIG-registered and HBO-trained skin therapists. This means that we act according to government guidelines and only work with safe, certified equipment and products. Beautiful and healthy skin can only be achieved with proven techniques, scientifically based methods, the right knowledge and experience, effective products and high-quality equipment. At Inskin Institute we offer the best medical cosmetic solutions and you are central!