Mesoestetic Melan Tran3X Depigmentation Gel Cream
Regular price

€74,00

Sale price

€70,30
Ordered today, delivered tomorrow
Premium skin care
Secure payment
2 Free testers
Gel Cream for treating pigment spots.
Mesoestetic
Melan
Tran3x Skin Pigmentation It contains Tranexamic acid, which has an innovative, therapeutic and strengthening effect. The concentrate and the gel cream are two mutually reinforcing products.
Gel Cream is for all types of hyperpigmentation (acne, melasma, sun damage)
Suitable for all skin types
This concentrate has a depigmenting effect
It contains Tranexamic acid that strongly inhibits the production of melanin
The Melan Tran3x concentrate in combination with the Melan Tran3x Gel Cream reinforce each other
Usage : Cleanse the skin with the Ultimate W+ Whitening Foam from Mesoestetic. Apply the Melan tran3X gel cream in the morning or evening over the Melan tran3X concentrate. During the day you apply the Melan 130+ sun protection product from Mesoestetic.
Texture: Gel cream
Active ingredients: 1.5% hydroxyacid complex consisting of salicylic acid and lactic (lactic) acid.

Contents: 50 ml
Share this product on social media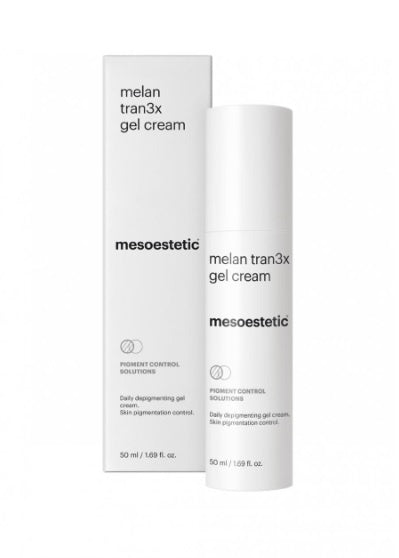 Dit zeggen klanten over ons